Opera is very important to the people of Israel, being a favorite music genre. Throughout the country, you will find a number of opera houses, each wonderful and distinct. The New Israeli Opera serves as host every year for numerous performances. Typically, the season will run from October to the month of July.

During this time, you can expect to see at least eight performances. Founded in 1985, the New Israeli Opera premiered with its debut of Dido and Aeneas, which was backed by the famous Israel Chamber Orchestra. However, opera in modern days started in 1922 when the Hebrew Opera performed several fantastic pieces by Tchaikovsky and Anton Rubinstein, simply accompanied by a piano.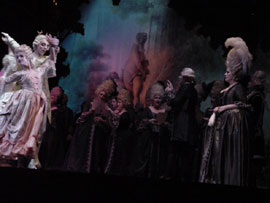 Soon after, Gounod's Faust was completely staged but even then, a single piano was the only musical accompaniment. Then just one year later, the Palestine Opera was conducted y Mordechai Golinkin in the wonderful production of La Traviata. At that time, an opera house was not available so the production was held in Tel Aviv at the Eden Cinema, along with the Coliseum Cinema and Jerusalem's Zion Hall.

With the economy being so bad at that time, the production company did not survive. However, during the 1940s, the Palestine Folk Opera successfully produced 17 operas and then in 1948, the Israeli National Opera was founded. This time, instead of a single piano, the operas were backed by the symphony orchestra with the first production being Massenet's Thais. Sadly, even with performances by Pladico Domingo, the company closed its doors in 1982.
Finally, in 1994, the New Israeli Opera got started, moving its permanent home to the Tel Aviv Performing Arts Centre. Other operas were formed by the Cameri, which was established some 60 years ago, being the first Hebrew-language repertory theater. Since that time, the Cameri has been called the theatre of social responsibility, since it is a conscientious theater that brings anxieties, hopes, and fears to the surface, all making the collection of Israeli society.

If you visit the New Cameri Theatre Arts Centre in Tel Aviv, you will find an extraordinary center that is massive. There, you will discover three theatre halls, a 450-seat hall, a 950-seat auditorium, a café Teatron, a 200-seat black box, multi-purpose foyer that is used for workshops, rehearsal halls, cabarets, and more, and offices along with storage facilities. Considered one of the finest performing arts theatres in the country, the New Cameri Theatre Arts Centre boasts a number of international groups for your entertainment enjoyment.

While there are many wonderful things to experience while in Israel, opera is truly something wonderful, something that comes from the heart of the people. With so many performing arts centres and opera houses in existence today, you will find small to large performances, something for everyone.


| | |
| --- | --- |
| | . |
The New Israeli Opera has made it one of it's foremost tasks to employ as many Israeli opera singers as possible. A number of them, like Anat Efraty, Sharon Rostorf-Zamir, Gabi Sadeh, Dan Ettinger, Hadar Halevi, Michal Shamir, Marina Levitt, Sami Bechar, Efrat Ben-Nun, Zehava Gal, Silvya Greenberg, Mira Zakai, Motti Kaston and others started with the New Israeli Opera, before performing in opera houses around the world. Also new immigrants from the former Soviet Union play an important role in the company's productions The New Israeli Opera shows that Israeli society consists of many international backgrounds, all with their own stories and experiences. It draws upon talents of native-born and newcomers alike, in order to create a musical and theatrical experience of the highest order. This way the NIO has been able to create and show its own distinct identity in the large world of opera.